I ordered two "self-made" Quote shirts from CustomInk. Actually, I tried to sneak the B5 logo and images from the station by them, but they noticed it. Darn. While I always thought "hey, that's just for my personal, private use, I don't try to cash in on those, so it can't be a problem, right?" I totally forgot about
their
side. It's
them
that would cash in. So unfortunately, you
won't see me wearing these
: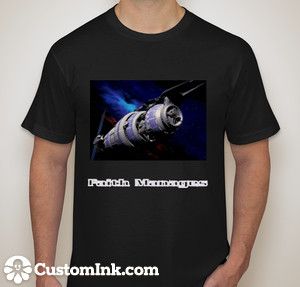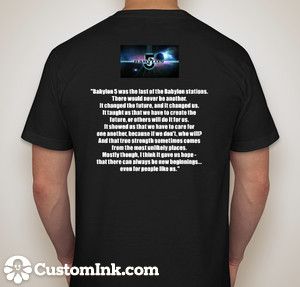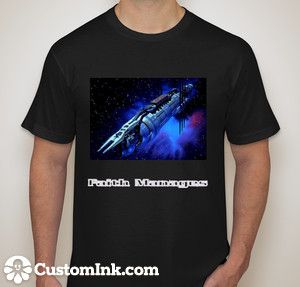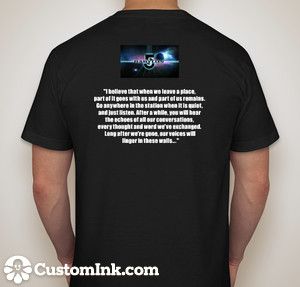 Instead, it will be just the quotes on the front, and "Faith Manages" on the back
(where the logo would have been). Just in case you can't make them out in the pictures, the quotes are:
"Babylon 5 was the last of the Babylon stations. There would never be another. It changed the future, and it changed us. It taught us that we have to create the future, or others would do it for us. It showed us that we have to care for one another, because if we don't, who will? And that true strength sometimes comes from the most unlikely places. Mostly though, I think it gave us hopeùthat there can always be new beginningsà even for people like us."
and
"I believe that when we leave a place, part of it goes with us and part of us remains. Go anywhere in the station when it is quiet, and just listen. After a while, you will hear the echoes of all our conversations, every thought and word weÆve exchanged. Long after we're gone, our voices will linger in these walls..."
Yeah, I know, not the most original ones, but they are two of those that impressed me and stayed with me the most.
Unfortunately, G'Kar quoting G'Quan at the end of "Z'Ha'Dum" ("There is a greater darkness than the one we fight. It is the darkness of the soul that has lost its way. The war we fight is not against powers and principalities, it is against chaos and despair. Greater than the death of flesh is the death of hope. The death of dreams. Against this peril we can never surrender.") and the "We are one" part of his declaration of principles ("Here, gathered together in common cause, we agree to recognize this singular truth and this singular rule: that we must be kind to one another. Because each voice enriches us and ennobles us, and each voice lost diminishes us. We are the voice of the universe, the soul of creation, the fire that will light the way to a better future. We are one.") didn't make the cut. I actually thought about doing 4 shirts, one for each day, but since I'll probably wear them just this once in my life, I didn't want to overdo it. The trip will be expensive enough as it is
.
So if you see some small dude wearing black t-shirts with the above-mentioned quotes on the front and FAITH MANAGES on the back, say hello
.