I've made a movie about Raider Wars in the Babylon 5 universe and I'm sharing it too to all the B5 fans here. It's very interesting, showing a lot of space battles along with good storyline told via blogs from featured EA officers or ISN news announcements. The movie is made entirely based on in-game captures from the freespace2 total conversion free game known as
"The Babylon Project"
. The begining of the movie also contains short part from the original series to resemble the show as much as possible.
This project lasted a couple of months, consisting of total 427 recorded files (more than 30 GB). I've decided to pick a few of them and put them together into this fan made Babylon 5 video: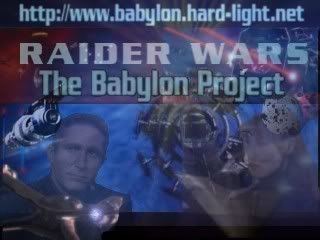 The idea was to create the very first movie from the Raider Wars Campaign - a 33 minute episode of The Babylon Project. Yet, a little edited and only showing some of the most important events in this campaign, it's still worth watching - the plot and everything is very similar and those few scenes from B5 show aid the plot and resemble as much from the B5 universe itself. I also reccommend this for everyone who likes the great work of Chris Franke, since I put many Babylon 5 music themes into this too.
The story is based in the AD 2258, where Babylon 5 decides to fight the Raiders who are stealing data crystals. Soon after, many reports came from the troubled Altair system where Raider attacks have grown to unacceptable level. Earth gov decides to call in a Task Force to rid the Altair system from Raider infestation.
Although everything looks smoothly for the EA task force, the Raiders seem to be well prepared and play schemes against Earth Forces. The mole on Altair station, rebel psychotic telepath known as Eris, is also aiding Raiders which makes things a little more difficult.
Hope you enjoy watching!
I guarantee you won't be dissapointed by watching it 'till very end, however, the quality is limited to only 640*480 and all recordings were done using unregistred fraps software. I wasn't able to produce it in better quality at that time but on the other hand, that way it's at least faster for streaming. If you have any comments or questions, or if you would like to see other stuff, please respond.
Here are the places you can watch or download the stream live.